Test: Yongnuo Lens 50mm f/1.8 (Canon)
Test: Yongnuo Lens 50mm f/1.8 (Canon)
That's it! It's finally here! A competitor (or a copy?) of the Canon nifty fifty bestseller 50mm f/1.8 II, I present you the Yongnuo 50mm f/1.8.
Now is the time to test it and give you a first glimpse. Is it really worth it? Is the price interesting compared to the Canon? Is the quality there?
Presentation of the Yongnuo 50mm f/1.8
The 50mm lenses are a must have in photography because it allows you to play on several fields (portraits, landscapes, night or low light photos, etc.) at a very reasonable price. Add a high optical quality (prime lenses) and a light weight (few elements, limited electronics, etc…) and you get one of the most loved photographers lens.
This 50mm f/1.8 lens is usually one of the first lens to get when you want to push the experience beyond the lens kit sold with your DSLR camera.

Said an experiences photographer
While the Yongnuo 50mm f/1.8 lens also has all these advantages, it is also important to highlight that it is EF mount, this means compatible with all Canon DSLR (APS-C and Full-Frame).
Yongnuo proposes us here a rather summary lens, which necessarily reminds us the Canon version because of their great similarity. The Yongnuo is a bit bigger. The quality of plastics is very similar (cheap).
Specifications of the Yongnuo 50mm f/1.8
Release date: October 2015
Code name: YN50mm F1.8
Diaphragm: 7 blades (5 for the Canon)
Filter diameter: 52mm
Minimum distance: 0.45m
Weight: 110g
Price: $50
As soon as you start using it, you'll notice that it recalls the Canon version. For those who never had a 50mm f/1.8 in their hands, let me tell you that this is a very convenient lens. It is very lightweight, and does not take up much room. Be careful though, its plastic construction will force you to handle it with care!
Let's mount the lens on the body of my Canon T3i and start the tests.
The sharpness is acceptable, rather good in the center, but unfortunately is not homogeneous, thus justifying its price. The sharpness is optimal at about f/5.6 and drops around f/10 or f/11.
Regarding vignetting (darker image in the corners), it is very present at large apertures and decreases when the diaphragm closes.
Personally, vignetting in general has never bothered me, sometimes I even add some on processing. So this is not a negative criteria for me.
In addition, it is always possible to correct it or even make it completely disappear in Photoshop or other editing software.
The bokeh (artistic blur) is very pleasant thanks to the 7-blade diaphragm. Auto-focus is fast enough for this price range.
Concerning the noise, the Yongnuo loses some points over the Canon which was already quite loud.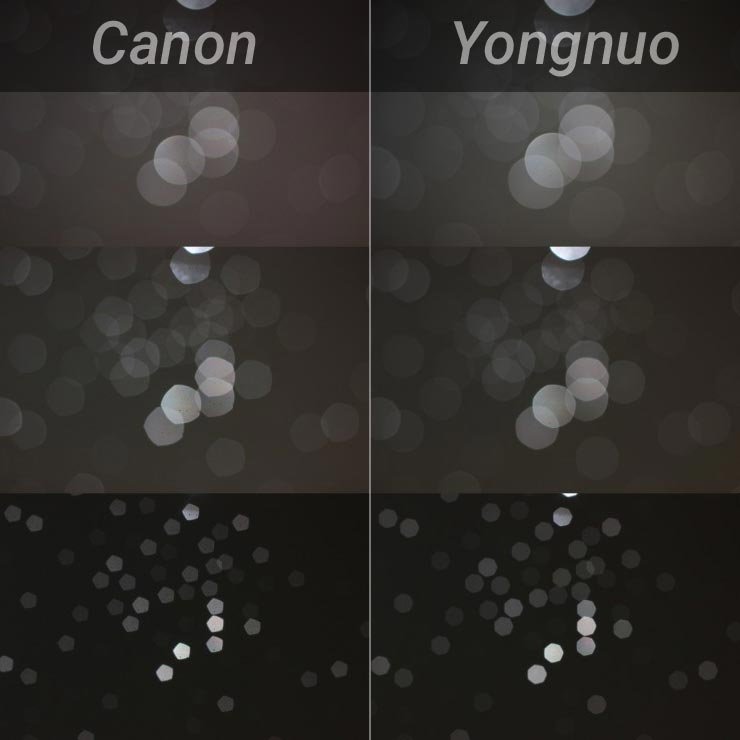 In itself it is not a problem, but it could be annoying in a place where silence must be respected or if you use it for video in case you do not have an external microphone.
Conclusion
This lens was a good deal when it came out in late 2014. For only $50 it allowed many photographers to try a prime lens without breaking the piggy-bank.
This is still an excellent choice if you want to start with a fixed focal length (prime lens), and/or if your budget is limited.
But you might know that there is a newer version (the Yongnuo 50mm f/1.8 II) released in 2018 and that cost a bit more ($75) but has also been improved.
Useful info:
For more information, I invite you to read Amazon comments.
That's really useful most of the time before making a purchase decision.
If you want to buy this product, thanks for using the following affiliate link, it will help me grow this blog.